Remember the really sad 1 book wrap up last month? I've broken free from the book slump! yayyyy!! The reason why I managed to read so many book is because of the booktube-a-thon.
lengthy wrap up ahead! brace yourself
Lord of Shadows by Cassandra Clare (full review)
SO SO SOOOOO GOOD!!! I can't rave Lord of Shadows enough. Cassandra Clare's writing is as impeccable as always. There's so much substance in the plot. I came to absolutely love the characters. Lord of Shadows is high up there with The Infernal Devices for me. You have to read it if you haven't.
rating: ★★★★★
2. Checkmate: This is Reckless & Checkmate: This Is Effortless by Kennedy Fox
Kennedy Fox has done it once again! After Viola and Travis' story, I've been desperately waiting for Courtney and Drew's happily ever after. It's a friends-to-lovers trope, which I absolutely love. I'm always on a lookout for such tropes, and when it's done well, I love it. Drew and Courtney are roommates and while Courtney had been secretly loving Drew, Drew is oblivious of her feelings and treats her like one of the guys. It's steamy and fun and have loads of adorable scenes. The humor and sass the characters have is A+. It's a change from Viola and Travis' story which I really appreciated, I didn't want to go into something similar to Kennedy Fox's previous works.
rating: ★★★★
3. Six of Crows by Leigh Bardugo (full review)
OMG. Another great book I've read in July. FUYOH. Six of Crows was fantastically written, the plot very well executed with multiple point of views which is incredibly well done. Writing from mutliple POVs can be distracting and confusing if not properly done but Leigh Bardugo did it perfectly. The cast of Six of Crows you ask? WONDERFUL. These flawed yet skillful characters are all full of personalities, and each have their own problems to solve.
rating: ★★★★★
everything below are read for the BOOKTUBEATHON!  
only managed to complete 5 challenges, so 5 books. regrettably, the winner's curse and crown of midnight were left unread. i read crooked kingdom, the heir and the crown in 3 days, one day each. flame in the mist for two days, i was beyond exhausted after those three days i had to split the book in two. lastly, the unexpected everything in three days because i was busy and that's the last book.
4. Crooked Kingdom by Leigh Bardugo (full review)
Can't say much because spoilers. I fell in love with the characters even more than before. The plot became much more complex and intricate, I tense up every time there's an action scene in fear that one of them might be critically injured. The ending wasn't unrealistic and elaborated which I appreciated.
rating: ★★★★★
5. The Heir by Kiera Cass
It's nice to meet America and Maxon once again, their whole family is so supportive and loving towards each other, it's really sweet. Reading from Eadlyn's perspective can be a little very annoying (to those who thinks America is annoying, yes, Eadlyn's much worse). She has this complex that can make her character quite suffocating and frustrating to read. I was so impatient with her personality that I almost DNF the book.
rating: ★★★
6. The Crown by Kiera Cass
The last book in The Selection series was much better than the previous one. Eadlyn's character improved so much. She started to open up to others and her 'i am the most powerful person' complex is gone. The ending was sweet but I don't really accept how easy it is for Eadlyn to make such a choice. Slight improvement from The Heir.
rating: ★★★1⁄2
7. Flame in the Mist by Renee Ahdieh (full review)
I fell in love with Renee Ahdieh's writing once again. Reading a Japanese mythology accompanied by Renee's whimsical and breathtaking writing, it was a wonderous experience. No one character in Flame in the Mist is boring, every individual are three-dimensional. Highly highly highly recommend.
rating: ★★★★
8. The Unexpected Everything by Morgan Matson (full review)
The Unexpected Everything is the only contemporary book I've read for the month. Sometimes, after a long fantasy-binge, I find it hard to get into a contemporary novel but it was so easy to read about Andie's story. I don't necessary agree with some of Andie's actions, but I liked her character. It's such a wonderful summer read, and there are dogs guys. How could I resist?
rating: ★★★★
pathetic reading month | june'17 wrap up (link)
recently added into my tbr (link)
review + discussion: lord of shadows by cassandra clare (link)
a way to cut down my tbr | booktube-a-thon 2017 (link)
review + discussion: six of crows by leigh bardugo (link)
booktubeathon update + aug plan| july'17 wrap up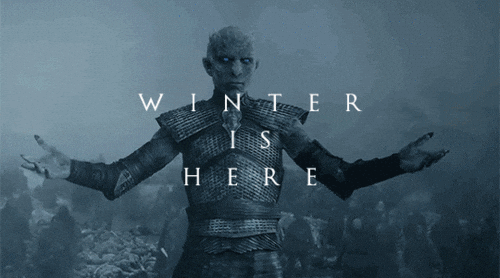 GAME OF THRONES IS BACKKKKK!!
tell them ' THE NORTH REMEMBERS '
me:  *hums game of thrones opening theme*
oh hot dayum. I've been waiting for season 7 ever since season 6 ended and it was worth the wait. The intro into episode 1 got me shooked, the ending got me shooked and EVERYTHING GOT ME SHOOKED. I'm such a fan. I'm planning to read A Song of Ice and Fire during my existence but the books are far too thick for me to even comprehend. (and i'm trying to find the edition that i want to buy the series in but since the series is still in progress… i don't know if i should get the books now.)
who are you supporting?
i love danny, and jon snow, and just the starks basically. i need a stark reunion asap. i want to see the direwolves as much as i can. cersei is an awful human being, but she is an awesome villain so i don't necessarily want to see her dead.
update: watching the first 3 episodes in season 7 got me exhilarated for season 8. i have several visions that i want to happen so badly.
went to an art jamming session with my friends. this is my first ever time to paint on a canvas. as much as it was therapeutic at the beginning, my arm got really tired after a while. i want to go there more often but it's so expensive. i loved mixing blue and white to create different shades of blue.
my plan for august would be participating in #thereadingquest hosted by Aentee @readingatmidnight which i have been waiting for ever since i got a glimpse of it on her twitter account. check her out for the blog post. i joined one of her previous challenge (failed miserably) and it was loads of fun. so i decided why not read more books in a fun way before i have to attend university at the end of aug?
i'm coming up with my tbr soon, so that's a blog post that'll be up soon.
majority of my aug would be me preparing for my university. i'm not necessarily excited, more worried i think. the unknown is scary, technically i'll have friends there but they aren't taking the same course as me but i'll see them around in school so that's a relief. hopefully i'll still be able to complete most of #thereadingquest with all the preparation going on.
that's the end of my july wrap up! so much better this month, am i right? thankful for the booktubeathon that happened, i needed it.