Welcome to my creative post for the #SpintheDawnTour hosted by the wonderful Shealea from @shutupshealea / @caffeinetours! I've already read and loved Spin the Dawn by Elizabeth Lim, here's my review. It's one of my highly anticipated 2019 releases, and it did not disappoint!
。・:*:・゚★,。・:*:・゚☆   。・:*:・゚★,。・:*:・゚☆
Spin the Dawn by Elizabeth Lim
Series: The Blood of Stars
Published July 9th 2019 by Knopf
Genre: young adult, fantasy, asian representation
rating: ★★★★★
links: Goodreads | Amazon | Book Depository
synopsis:
Project Runway meets Mulan in this sweeping YA fantasy about a young girl who poses as a boy to compete for the role of imperial tailor and embarks on an impossible journey to sew three magic dresses, from the sun, the moon, and the stars.
Maia Tamarin dreams of becoming the greatest tailor in the land, but as a girl, the best she can hope for is to marry well. When a royal messenger summons her ailing father, once a tailor of renown, to court, Maia poses as a boy and takes his place. She knows her life is forfeit if her secret is discovered, but she'll take that risk to achieve her dream and save her family from ruin. There's just one catch: Maia is one of twelve tailors vying for the job.

Backstabbing and lies run rampant as the tailors compete in challenges to prove their artistry and skill. Maia's task is further complicated when she draws the attention of the court magician, Edan, whose piercing eyes seem to see straight through her disguise.

And nothing could have prepared her for the final challenge: to sew three magic gowns for the emperor's reluctant bride-to-be, from the laughter of the sun, the tears of the moon, and the blood of stars. With this impossible task before her, she embarks on a journey to the far reaches of the kingdom, seeking the sun, the moon, and the stars, and finding more than she ever could have imagined.

Steeped in Chinese culture, sizzling with forbidden romance, and shimmering with magic, this young adult fantasy is pitch-perfect for fans of Sarah J. Maas or Renée Ahdieh.
。・:*:・゚★,。・:*:・゚☆   。・:*:・゚★,。・:*:・゚☆
QUESTION: Given a choice, what magical item would you choose to own?
This might be a predictable choice but I'm going to get a wand. It's the easiest way to do spells and do magic.
Without further ado, here are five books with enchanted objects that have powerful abilities unique to their own series!
HARRY POTTER SERIES
Starting the list off with one of the most famous and beloved series ever in the entire planet, the Harry Potter series! I'm sure everyone's familiar with the phrase "the wand chooses the wizard", we all thank the Weasley twins who passed the Marauder's Map to Harry and, of course, we can't forget about the Time Turner. To mention a few more, there are the mysterious Mirror of Erised, Room of Requirements, the Pensieve, the Sword of Gryffindor and the Invisibility Cloak. It's, truly, a magical world.
photo taken from Pottermore
THE ELEMENTAL TRILOGY
The Elemental Trilogy was on my tbr shelf since I impulsively bought the first book, The Burning Sky by Sherry Thomas, years ago. Finally in April this year, I picked it up, and I enjoyed it much more than expected. In this trilogy, the wands amplifies the mage's powers. Not only that, there's a book called the Crucible. With the Bane, the most powerful mage ever, adamant to kill her, Prince Titus trains Iolanthe Seabourne. YES, YOU CAN ENTER A BOOK AND INTERACT WITH THE CREATURES, ENVIRONMENT AND PEOPLE IN EACH STORY. It is awesome.
HOWL'S MOVING CASTLE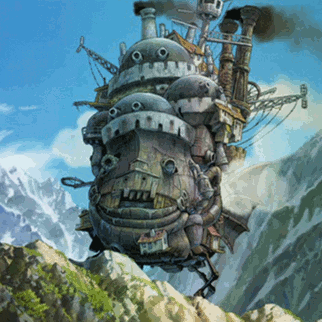 Howl's Moving Castle by Diana Wynne Jones has a beautiful, whimsical setting with enigmatic and magic-wielding characters. Without spoiling much, the castle is moved (duh) by magic, the front door's knob can be turned to open into four different worlds, and more enchanted objects clustered in Howl's room. Don't want to be pushy but PLEASE watch the animated movie by Studio Ghibli. It was my first Ghibli film and it's an everlasting favorite.
DAUGHTER OF SMOKE AND BONE
Another favorite series of mine would be Laini Taylor's Daughter of Smoke and Bone. Wishes takes the physical form of beads or metal coins and are created to mostly inflict varying degree of pain. From the least to the most pain, there is scummy, shing, lucknow, gavriel, and bruxis. Not limited to pain, depending on which type of Wishes, one can grant flight and invisibility, the other can bestow you the ability to speak languages without learning them. There's forbidden romance, intriguing writing and a whole lot of magic in the series.
SPIN THE DAWN
NOW, to the book you've been waiting for! In Spin the Dawn, Maia is one of the twelve tailors fighting to be Lady Sarnai's main tailor. What she wasn't expecting was the final challenge: to sew three magic gowns from the laughter of the sun, the tears of the moon, and the blood of stars. Before she left for the palace, Maia's dad passed her the family heirloom, a pair of scissors. Little did she know, this isn't a normal pair of scissors and she's going to plunge into a whirlwind of folklore, adventure and magic.
。・:*:・゚★,。・:*:・゚☆   。・:*:・゚★,。・:*:・゚☆
GIVEAWAY & TWITTER CHAT!
I had a wonderful and marvellous time reading Spin the Dawn, and you should too.
You can win a copy of Spin the Dawn by Elizabeth Lim!
Either through the blog tour itself (3 copies, open internationally) via this link or the #CBTTC Twitter chat (2 copies, US only) which is held on July 7th, 9PM PHT.
。・:*:・゚★,。・:*:・゚☆   。・:*:・゚★,。・:*:・゚☆
ABOUT THE AUTHOR
Elizabeth Lim grew up on a hearty staple of fairy tales, myths, and songs. Her passion for storytelling began around age 10, when she started writing fanfics for Sailor Moon, Sweet Valley, and Star Wars, and posted them online to discover, "Wow, people actually read my stuff. And that's kinda cool!" But after one of her teachers told her she had "too much voice" in her essays, Elizabeth took a break from creative writing to focus on not flunking English.

Over the years, Elizabeth became a film and video game composer, and even went so far as to get a doctorate in music composition. But she always missed writing, and turned to penning stories when she needed a breather from grad school. One day, she decided to write and finish a novel — for kicks, at first, then things became serious — and she hasn't looked back since.
Elizabeth loves classic film scores, books with a good romance, food (she currently has a soft spot for arepas and Ethiopian food), the color turquoise, overcast skies, English muffins, cycling, and baking. She lives in New York City with her husband.
Website | Goodreads | Instagram | Facebook | Twitter
。・:*:・゚★,。・:*:・゚☆   。・:*:・゚★,。・:*:・゚☆
FOLLOW ALONG: SPIN THE DAWN BLOG TOUR (FT. SCHEDULE & GIVEAWAY)